Nishchal is described on www.gencosys.org and nishchal.preseed.in edit. Read about him from there, unless you already feel him through the words written through his vibe across www.preseed.in and related websites.
The most exciting learning moment of it all was 'how to build an ego less company' - What does that even mean? It means a company without any door or roof or body or shape. No, ego less company is not a word that has been used ever perhaps, I coined it to explain yet another fundamentally different attribute of our company. The advantage of running a company like this is that I don't have to waste too much time in hiring or firing people, people can come in freely and walk out freely. THE GOODNESS OF THIS STRATEGY LIES IN THE FACT THAT THOSE WHO COME IN AND DON'T LEAVE.

ESOP, but no ego please
Employee stock options at Preseed for those who can keep their ego aside.
I put the first word about Preseed in feb of 2012. Since then we have come a long way forward. From no money in my pocket and 1 person to no money in my pocket and 15+ people team. That means a lot of things, but this post is not about what all that could means, since, all that I have already indicated across my various writings about Preseed. This post is to describe how I plan to distribute stocks to employees of Preseed
If you find your name on the list below you must have -:
We hope you acknowledge that one day Preseed is more likely than other startups from India to be a multi-billion dollar company that will make an impact in the world not only through it's products but also through its unique culture of ideas, faith and action through irreplaceable inspiration.
One of the greatest difficulties that I face in running a company like Preseed in the world of people who have much greater egos than their knowledge (obviously, for, ego and knowledge are inversely proportional) is handling people with my little tolerance to bull shit excuses, careless attitude towards my company and mediocrity. Oftentimes their inflated egos make them want to quit immediately after that rare outburst from me.
Well obviously there is a good in even that event of that person leaving, the problem is the going also creates that negative vibe in the company because the company of individuals does not understand that coming and going is no big deal in a liberal culture like that
One needs to understand that if I pasted them they must have deserved it. Any way startup life is not so rosy and even the rose comes with thorns. If you can keep taking those blows and keep moving forward for the sake of our mission, then you most definitely deserve a chance not only to hold the stock but to lead one day for you listened well from those whose sincerity in Preseed is unquestionable. You need to understand that if I pasted you, I did it in the best interest of our company which is one thing you can't doubt. Try it.
For me the best interest of preseed matters far over and above pleasing anyone. I am easy but those who are careless may not find me that easy after all. Find out about the strictness of Sri Yukteswara's attributes as a teacher to Sri Yogananda Parhamansa and Steve Jobs/Elon Musk/Larry Page's strictness as leaders of their teams.
In this light I am pasting a screenshot of some email exchanged between I and a senior member of Preseed: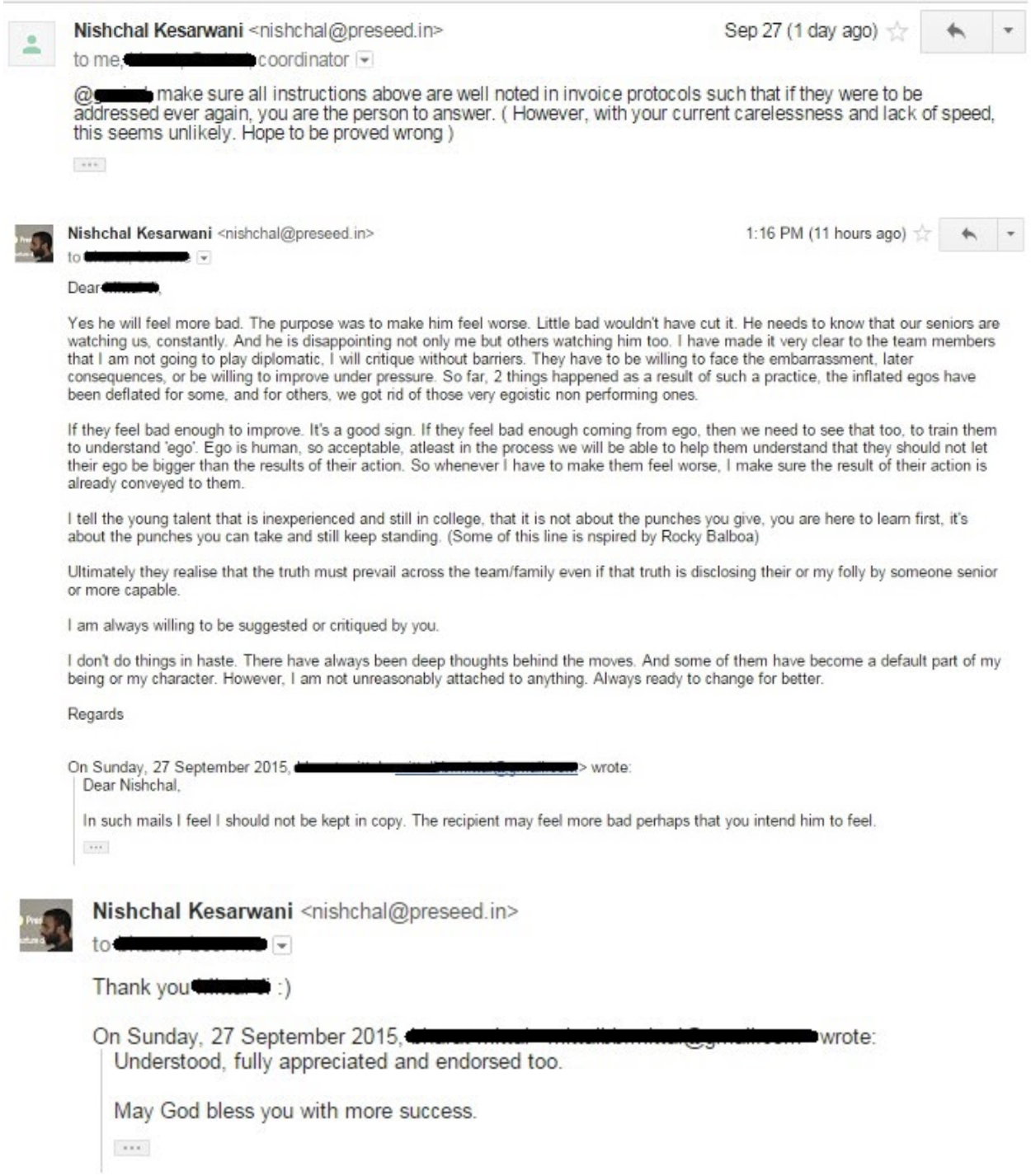 For ego stock post — 
I don't know about 2015 but I know if in 2014 I am doing anything that does not relate to Todoed then it is not the right way to go for me. I am saying that I have brought Preseed to a point where as long as it has you guys hustling together it will keep moving forward as long as each one has the intent to be there for each other. As long as that is there we have a structure and spirit to build an extraordinary company out of such relations we are forging.
Anyway, so I am saying that please run the company smoothly so smoothly that I don't have to interfere.
If I am found doing anything else in the company other that building Chattodo then know without me saying,that you guys are not doing it right. I need to focus only on Chattodo. For everything else I have laid the foundation very thoughtfully in such a way that it can all be handled with my continued directions which will always be there, especially given that I have already written everything in detail all the way to the next 5 years of our works forward. Now we just have to fill the dots most of which are already indicated. Basically, I feel the blueprint is already created. Now we have to see how well you guys collaborate among each other and cooperate with each other. Just remember it is important to empathize with those you work with to truly understand their situations and intent at all times. That will help you make right and righteous decisions for each one of us.
Please work hard. Preseed will not only be a mulit billion-dollar company but will also be a company that will inspire generations through truth and unparalleled transparency.
Highlight (2013): Preseed for Preseed Web Lab
After I failed in building my first consumer web product in 2010 with a near $100,000 in investment. I decided to be that guy who the whimsical hackers and designers were willing to lend their ears and skills to, regardless of the compensation I was going to pay them, for now there was going to be no money, but yet the same journey filled with ideas, conviction and inspiration. For I always had ideas, conviction and inspiration (right from my college days) that if coupled with the skills of hackers and designers can translate into very meaningful web products of great value to the users.
To be that guy I had to be Preseed Web Lab, and for Preseed Web Lab to exist, there had to be
Preseed
.
So after 1 year of starting Preseed in 2012. I am finally at a place —
Where I have been able to attract a hand full of hand picked hackers and designers I have now started to develop upon some cool app ideas with at Preseed Web Lab with a substantial share of the products with Preseed.
While every other secondary aspects of Preseed vis a vis Preseed Ecell, Preseed Anything Lab etc. is now handled by a bunch of other people who are inspired enough to build the culture of Preseed with or with out me. Hence, all I got to do with them is show them the path forward and guide them through a little each day. Which leaves me enough time to put a near 8 hours in a day into Preseed Web Lab, the primary aspect of Preseed.
Where I have men who keep sharing with us the new age web tools, articles, products my team seeks to know about.
Where I can continue to live liberally as an artist and so can my team.


Note-: Our market is not the users of the end products we are making. Our market is the counter cultured hackers, hustlers and designers we want to build stuff with. As long as we get 30 such hackers and hustlers registered with Preseed Web Lab in the next 2 years , we are good.

Out of 30 such hackers, hustlers and designers we identify, we believe atleast one team of 3 would have us build one great product.